ASUNG PLASTIC VALVE CO.,LTD is the leading company of plastic valve and piping products since its foundation in 1967 which has been leading development in the field of domestic plastic pipe.

With the technologies, accumulated based on the business actions taken and research & development conducted by the company up to now, ASUNG has developed various products those produced using material of U-PVC, C-PVC, CLEAN-PVC, HT-PVC, PP and PVDF, and have been supplied the quality products efficiently to the whole business fields throughout the heavy chemical industries and semiconductor production fields, such as the petrochemical fields, semiconductor industry, water treatment industry and chemical industry fields, etc..

Unlike the reality of many domestic producers developing new products by joint ventures or technical cooperation with developed countries, ASUNG has been focusing attention on developing products with our own technology since the establishment in 1967. ASUNG's excellent technology prowess is widely recognized in the global market as well as in Korea as they export variety of products to Asia and North & South America.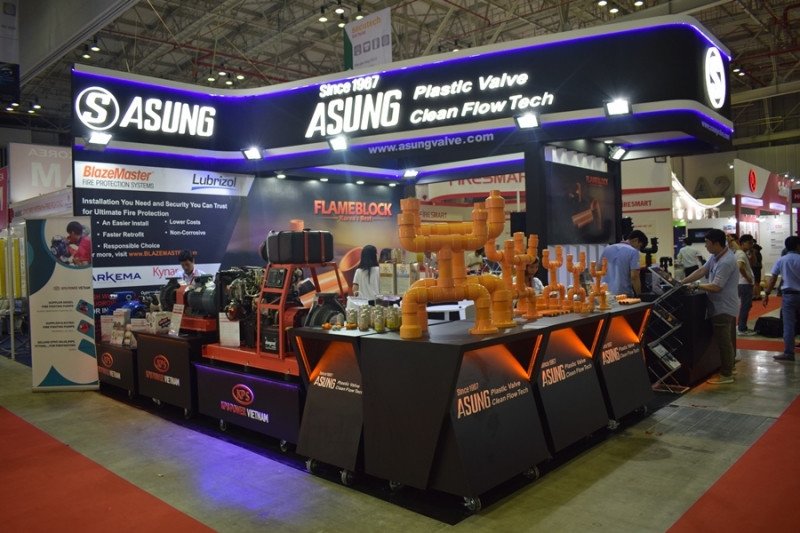 Besides, in line with our business goal aforementioned, ASUNG are trying our best to seize No.1 position on the plastic valve market at home and abroad by taking quality and business renovations in addition to satisfying the quality requirements defined in the ISO9001 Quality Certificate.
Song Han is the official distributor CPVC Valves and Pipes of ASUNG in Vietnam.